Pictures
Click HERE to see a hilarious movie by Andrew D'Angelo that he made when last in Iceland playing with me and Jim Black at the Reykjavik Jazzfestival. You'll see clips of the gig, me at a radio interview and of my sons and my wife but mostly of Jim and Andrew at their favorite pool going down the slide.
At Tonic with AlasNoAxis pictures by Peter Gannushkin
In Lisabon playing with Rafael Toral
In London's Small Fish record store playing with Skuli Sverrisson and Antenna Farm (Auxpan watches carefully) Thanks to Sigtryggur Baldursson for the photos.
At the ICA in London with Skuli Sverrisson during the Kitchen Motors "mini-festival". Organized and recorded by BBC's Mixing It.
Thanks to Addi from Apparat Organ Quartet for the photos.
At the Reykjavik Jazzfestival w/ Andrew D'Angelo and Jim Black
Pic by Eggert Jonsson
With Mathias Hemstock at the Reykjavik Jazzfestival
Pic by Eggert Jonsson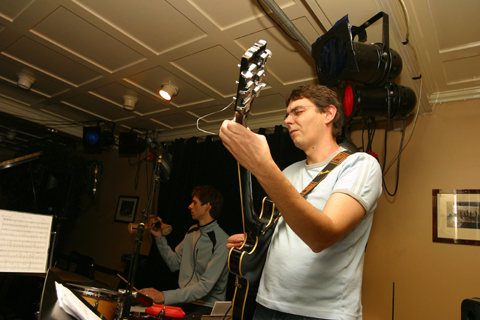 With Kevin Drumm at the Reykjavik Jazzfestival
With Jorma Tapio, Arve Henriksen and Terje Isungset at the Reykjavik Jazzfestival
Kitchen Motors